Johann Schmidt is a German/Vesper scientist. He was also Vesper Four.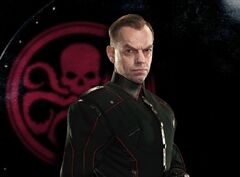 Johann Schmidt was born in a village in Germany to Hermann and Martha Schmidt. His mother died in childbirth and his father blamed Johann for her death. Johann's father tried to drown the baby, only to be stopped by the attending doctor; he later committed suicide, leaving Johann an orphan. The doctor took Johann to an orphanage, where the child led a lonely existence. Johann however, ran away from the orphanage when he was seven years old.
Ad blocker interference detected!
Wikia is a free-to-use site that makes money from advertising. We have a modified experience for viewers using ad blockers

Wikia is not accessible if you've made further modifications. Remove the custom ad blocker rule(s) and the page will load as expected.